This was delicious, but also made more than I anticipated. I don't have a very big crock-pot so the full recipe would not fit. So I just cooked half of it, froze the other half, and there was still some left overs for Jake and I.
Cheesy Crockpot Cowboy Casserole
Ingredients
1/4 cup diced onion
1/2 tsp pepper
1 tsp salt
1/2 tsp Mrs. Dash
1 lbs small red potatoess, sliced thin (about 4-5 small red potatoes),
1 can of cream of mushroom soup
1 lb ground beef browned and drained
1 can of diced tomatoes with liquid
1 cup canned corn
1 can dark red kidney beans
1 cup of shredded cheddar cheese
Directions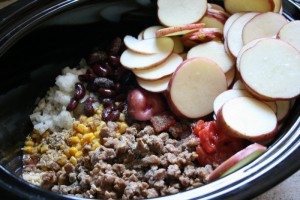 1. Place all of the ingredients except the cheese in a 4- 6 quart crockpot and stir well.
2. Cover and cook on high for 4 hours or on low for 7-8 hours. Uncover crock-pot and sprinkle shredded cheese over top and recover and let cook an additional 30 minutes.